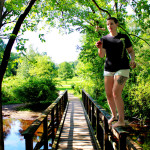 Leah currently goes to school at Westfield State in western Massachusetts and is majoring in psychology. She will be graduating in 2014. During the summer she works at a bakery and decorates cakes. In her free time she loves playing with a Kendama. Leah is also a yo-yoer so seeing the Kendama/ yoyo cross over is amazing for her. In fact she started to play kendama because of yo-yoing. That is how she fell in love with it in the first place. Leah loves going to events and competitions to learn and trade tips and tricks with all the new people she meets. Leah's passion for both Kendamas and yo-yos will help her to go far not only in the Kendama and yo-yo communities, but also in life.
Date of Birth: August 17th 1992
Hometown:Belmont Ma
Favorite Kendama: Yomega keeps working on new ones so my favorite is always changing!
What is it about Kendama that you enjoy the most?:
I love how relaxing it is to play and learning new tricks from new people
Other Hobbies: yo-yoing and video games