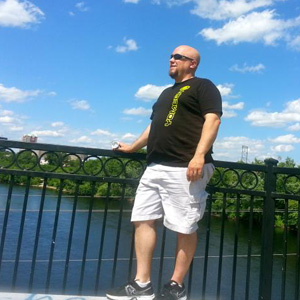 ADAM LORD
dam began yo-yoing in July of 2011. Since then he has founded The
New Hampshire yo-yo club. Through the club, Adam has been able to
spread his passion for yo-yoing to people of all ages. The New Hampshire
yo-yo club is one of the fastest growing clubs in the world and has put
New Hampshire on the map for yo-yoing. In 2014 he plans on hosting the first
New Hampshire state yo-yo contest. Adam is very active in his community by
putting on demonstrations at local schools and youth groups. Adam has found through his teachings that yo-yoing is a great way to build confidence and
self-esteem at any age.
Date of Birth: 5/14/74
Favorite Yo-Yos: Glide and raider
Favorite style of play: 1A and 5A
What is it about yoyoing that you enjoy the most?
The people that you meet in the yoyo community,
everyone is unbelievably nice and super supportive.
I also love teaching. Running the yoyo club gives me
the chance to pass on my passion for yoyoing to new
members.
Other Hobbies: Guitar and Karate
Favorite food: Sushi
Titles:
2011 & 2012 MA state yoyo contest 1st place Intermediate pick
your trick 16 & up division
2012 RI state yoyo contest 1st place Intermediate pick your
trick 30 & up division
2013 North East Regional yoyo contest 2nd place intermediate
pick your trick 16 & up
An intermediate play level Yo-Yo, the Fireball is able to deliver high speed and ultra smooth spins
The Yomega Maverick YoYo is a high grade, all aluminum, laser etched yo-yo that is designed for advanced play