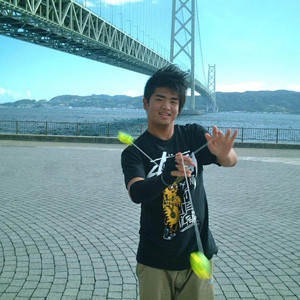 Ryo started his journey of yo-yoing at the age of 12. During the course of his yo-yo career he has taken the yo-yo world by storm with fast and dynamic performances. Ryo also spends time teaching children how to yo-yo in his free time. Ryo is always working hard as a contestant and spreading yo-yoing. He really loves to yo-yo and wants others to know the joy that yo-yoing can bring to your life as well!
Date of Birth:7/27/92
Hometown: Kobe Japan
Favorite Yo-Yo: YOMEGA Raider
Favorite Style of Play: 2A
What is it about yoyoing that you enjoy the most? That new friends can do through the yo-yo.
Other Hobbies: Swimming.
Favorite food: Hamburger
Titles:
2009-2013 west japan yo-yo- contest 2A division 1st
2011 japan national yo-yo- contest 2A division 1st
2010 World yo-yo- contest 2A division 2nd
2011 World yo-yo- contest 2A division 3nd